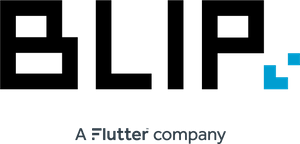 Voltar
BLIP
We are a tech and innovation hub with a strong knowledge in software development. We develop software, mobile apps, web platforms and retail applications for betting and gamming, using a top-notch tech stack to produce solutions with the aim of delighting our customers.
Founded in 2009 and based in Porto, it was acquired by Betfair in 2012, which was then acquired by Paddy Power in 2016, and we are now part of Flutter Entertainment - one of the world's largest company in the bookmaking industry. The code we develop in Porto is used by over 5 million people in more than 100 countries and we are in the API Billionaires Club alongside players such as Google, Facebook and Twitter.
We want to change the entertainment landscape and mindset forever while having a fresh, inspirational and innovative approach in everything we do, creating the new, reinventing the rules.
We're an IT Employer of Choice having and seeking to have the best talent around with a natural fit in our organizational culture. And we also believe that we can complement each other: you can be our missing piece to be a better company. On the other hand, we are your missing piece, because we can give you the flexibility, work-life-balance and tech challenge you're lacking.
...Are you our missing piece?