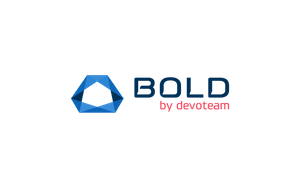 Voltar
BOLD by Devoteam
BOLD is a technology company, part of the Devoteam Group, focused on developing and delivering innovative technological solutions.
Our solutions are based on a highly technical and specialized knowledge, which combine creativity, agility and design. We work everyday with specialized teams that bring their technical know-how to the development and innovation of all our projects.
Founded in 2009 and now with more than 750 professionals, BOLD's key pillars are Technology and People. This is at the core of our DNA. Based on this technology-people symbiosis, we help our clients to overcome their new business challenges.
We believe in the transformative power of Technology and People's ability to have a positive impact on the world! That's why we want to empower them to become their best version.
Where we work at, the events that we do, the relationships that we have and the benefits that we provide, all is connected and inspired by our will to go further and make BOLD a place where we can be ourselves.
We are #TechforPeople